A simple explanation of how it all works:
When you make a sale of our $2 advertising package, that member who made the purchase is entered into our 1x3 straightline Wave 1 Cycler (See more details below).
Each time a member completes a cycle (Wave) they earn more ad credits as they are automatically upgraded to the next Wave. We have 5 levels of ad packages, Wave 1 (where everyone starts), Wave 2, Wave 3, Wave 4 and Wave 5.
Wave 1 is a 1x3 Cycler, Wave 2 is a 1x6 Cycler, Wave 3 is a 1x9 Cycler, Wave 4 is a 1x12 Cycler and Wave 5 is a 1x15 Cycler.
With over 500 re-entries, this cycler will literally pay you over and over again!
Those re-entries will be added at 1/Day, thus making our program run for a VERY long time
Once you have completed all Waves in the Company Forced Cycler, you've earned over $20,000 in Advertising Rebates, all from a one time payment of $2.
All members that join after you, will follow you into all waves, as well as the re-entries from those, that joined before you.
You, being the referrer, you earn everytime your referral cycles Wave 2 and above. As he/she move up through the next Wave(s), you will receive bigger bonuses as well - It pays to promote!
So make sure to share this opportunity with all your friends, you can earn over $1000 in Bonuses for every referral!
2DollarWave - Advertising That Puts Money Back In Your Pocket!
If you are having a hard time referring: We have a Pay It Forward (PIF) option that allows you to buy the Wave 1 ad package for your referral and lock them into your referral network!
That strategy works well because everybody starts with only $2.00, which is really inexpensive and very affordable for all. All personal Referrals will eventually follow you into your own small Personal Cycler, which pays $210 when completed (see below).

We accept many different payment options including crypto payments - All available payment options are listed on the Purchase page.
Success Comes In Waves - Company Forced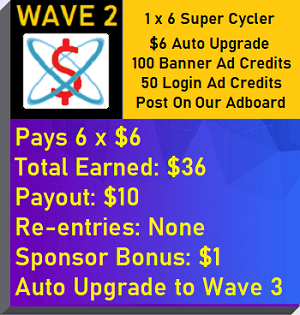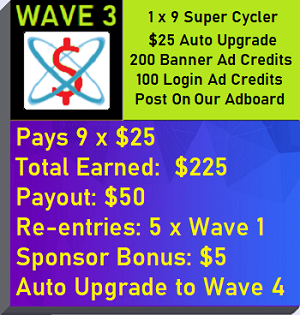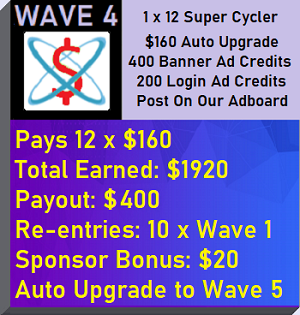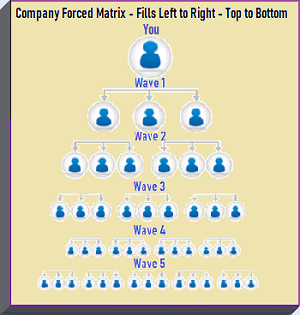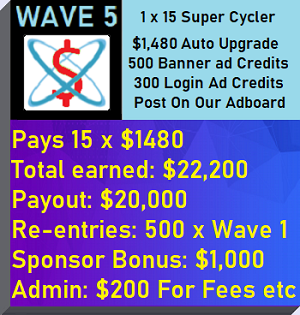 Personal Forced Cycler